Your Personal Formal Night Club
That's how we feel our Sweet 16's go, a personalized, formal, nightclub. Our DJ mixes the best of the best tracks seamlessly, the Emcee announces you into the room, helps with your candle lighting, and your friends have the time of their lives celebrating the big one six with you. From small to huge our sweet 16 packages have you covered for what ever it is that you see and like. Have questions about planning the perfect Sweet 16? Our online planning tools make it simple and easy to navigate the complicated world of party planning. Click below and find out more today!
Invest in a Pro DJ for your sweet 16 as low as $425
A REAL DJ that can MIX
Ever been to an event and the DJ plays a song, then plays the next one the same way your iPod could? That's not a DJ, thats a guy playing music. We have REAL DJs, who mix music, seemless, beatmatched, and artistic. We never let the music run out. Wanna hear what the difference sounds like? Ask us for a sample.
Read Our Five Star Reviews
Two Speakers for up to 50 people.
Two Speakers and a Subwoofer for up to 150 people.
Two Speakers and Two Subwoofers
Lighting from Basic to Concert Style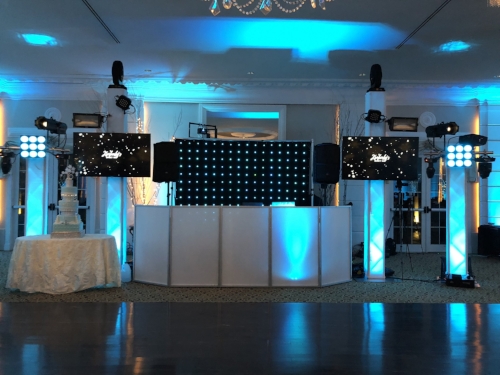 Customized "Club" Lighting Setup
Custom Designed to fit your event.
Latest and Greatest Photo Booths
The Magic Mirror Photo Booth. our 5ft floor standing mirror, completely touch screen. Animations magically appear on the mirror and encourage guests to take the best photos. The mirror can even let your guests sign their photos at the bottom and text them a copy to keep.
Only the best in the photo booth world! These photo booths take high quality photos and print within 10 seconds! Our booth is able to have a lighted edge to attract guests and our interactive menus make using them fun!
We do a lighted monogram and project it on a wall or the floor. Its a custom touch for your big day.
Dancing LED Robot on Stilts
Have the robot come out to your events for an hour long dance session that always lightens up the room.
Shhhhh..... There isn't music playing. It's all in your head. We pass out wireless headphones with three channels on them. Each channel has a different genre or style of music with one being the live DJ.
Programmable to even display your name
Time to have your own gameshow. Trivia all about you. Let your friends compete to see who knows you the best. These consoles show the players name, track points, and lock out other players once someone buzzes in.
We've done soooo many Sweet 16's!
Stop waiting, find out if we are available today!